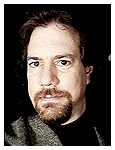 Information Systems Manager
Miles-Kevin Baron is the founder of Affordable Technical Services. He is a Senior Information Systems professional with over 30 years experience including 16 years in supervisory and management positions. His extensive background encompasses computer and communications technology, audio engineering, basic electronics, marketing, customer service, and training. This background, which includes over 14 years of military service, has provided him with the skills and experience to properly evaluate a clients technology needs, and without being limited to just one paradigm, methodology or model, provide expert, affordable, technical advice and services.

Some of his qualifications both turnkey and lifecycle:
Information Systems Management
Customer Support
Training Development and Presentation
Web Development
Electronic Documentation and Imaging
LAN/WAN Administration
Hardware/Software Testing, Evaluation, Design and Implementation
Procurement & Implementation
Configuration Management
Quality Assurance Procedure Development
Software Design and Programming
Help Desk Design, Development Support and Management
PC and Network Hardware and Software Installation and Troubleshooting
Multimedia Development
Audio and MIDI Recording
Photography
Telephone System (PBX) Maintenance and Programming
Details on any of these qualifications are available upon request.